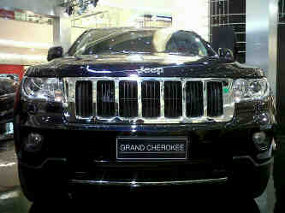 Jakarta, March 17, 2011 - PT Garansindo Inter Global (Chrysler Indonesia) launched the All New Jeep Grand Cherokee at Senayan City, South Jakarta, today. This new model is offered in two variants which differ only on the machine and its capabilities. The first variant is called Limited V6 Pentastar 3.604cc capacity to produce power 210 kW (295 PS) @ 6300 rpm is sold at USD 1150 billion (on the road in Jakarta, not including progressive taxes).
The second variant uses a larger engine, the V-8, which produces power 5.654cc 25kW (347PS) called Overland, sold at Rp. 1390 billion. Both engines use technology Multi-Displacement System (MDS) who claimed to economical fuel consumption, which is 8.7 km per liter Limited and Overland 7 km per liter.
According to Mohammed Abdullah, Managing Director of Chrysler Indonesia, both variants are expected to meet the desire Jeep in Indonesia. This year we hope to sell 100 units in Indonesia, he explained.
Meanwhile, General Manager of Chrysler Indonesia Ahmad Rieva Muchsin adds, are now available stock of more than 20 units of imported intact (completely built-up) of the United States.
For those who want to order, can be accepted today, he added. Chrysler jeep in Indonesia will compete with European luxury SUVs, such as the VW Touareg, Range Rover Sport and BMW X5. (Source: Kompas)
Powered by Telkomsel BlackBerry®